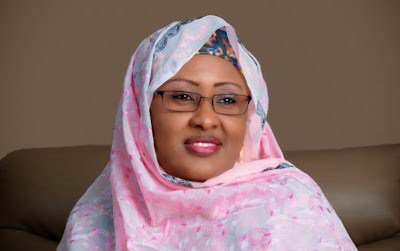 The Wife of the President, Mrs Aisha Buhari, has launched her first book on "Essentials of Beauty Therapy'' to enhance the health and wellbeing of human body.
Mrs Buhari made the public presentation of the book on Thursday in Abuja at the Banquet Hall of the Presidential Villa, Abuja.
She described the book as the outcome of many years of research after series of courses she undertook in order to acquire the necessary knowledge to specialize in those areas.
"My natural passion for beauty and fashion developed the unique interest to work, teach and mentor young ones on beauty and fashion.
"In my over 10 years in beauty industry, l have trained, mentored and empowered hundreds of young Nigerians in different areas such as facial, skin and body care,'' she said.
Aisha said that she had served as member of the technical team that developed the curriculum on beauty therapy.
She said the curriculum development was aimed at building the capacity of young school drop outs for empowerment and self-reliance programmes in vocational institutions.
She expressed hope that the book as a training manual would be part of the curriculum of the new National Board for Technical Education, Vocational Enterprise Institute and National Institute Diploma on Cosmetology in beauty therapy in Nigeria.
Aisha said that her decision to present the book was to contribute through her personal efforts to support the victims of insurgents particularly women and children.
Credit: Leadership